In October 2017, Collaborative Scotland organised a series of public events and business breakfasts and other events in the north-west of Scotland as part of our Better Conversations Bus Tour.
The Bus Tour is a new project aiming to build real dialogue and problem-solving capacity, offering an opportunity to discuss in a safe space the really important issues that concern us all, while helping to take some of the heat out of difficult decisions about contentious matters in Scotland's communities, business and public life.
The Bus Tour visited 16 communities in the north and west Highlands.
Tour Report
The Better Conversations Bus Tour Report has now been published. The Report contains Collaborative Scotland's findings and recommendations. It has been launched at a number of events in March 2018.
The Report concludes that there is great potential in hosting these kinds of conversations, both in the north and west, where the Tour engaged with so many enthusiastic people, and elsewhere in Scotland. Already, plans are unfolding for the next adventure to the south and west later this year.
The Report raises questions:
How to make better and more efficient use of existing resources in the communities?
How to encourage and enhance collaboration within and across communities?
How to attract and accommodate people, especially younger people, through new job opportunities and affordable housing?
How to make the best of tourism, while building a sustainable economy?
How to attract necessary funding for community projects?
How to support local autonomy, decision-making and problem-solving?
How to ensure long-term planning rather than merely short-term gain?
Read the full Recommendations here.
Read the full Report here: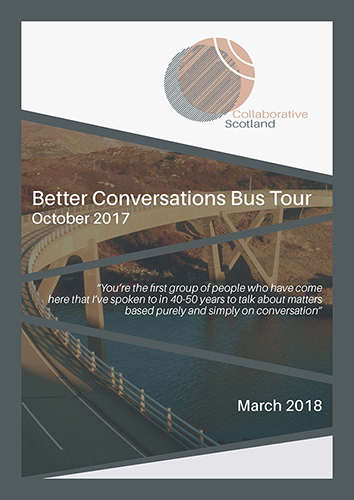 Read the Commitment to Respectful Dialogue here.
Events
Please see below for information about the event we held. You can also download the rather enticing Bus Tour poster here. Read the Bus Tour Press Release here, too.
Blog Posts
[display-posts category="BCBT"]
We are pleased to be working in association with these leading local bodies:
Thanks to Rabbie's Tours for making sure we get from place to place!